The Journal of State Signs
LAST UPDATE:
Sunday, April 22nd, 2018
(A state will only be included here if I have ridden to it. It doesn't count if I got there some other way. NO TRAILERS!!)
STATES REACHED BY MOTORCYCLE SO FAR:
25
STATES REMAINING:
23

Alabama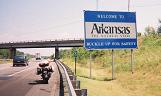 Arkansas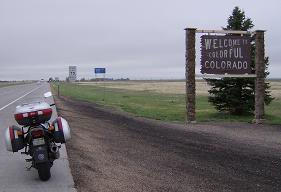 Colorado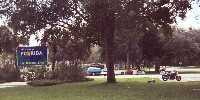 Florida (My starting and ending point on every trip.)

Georgia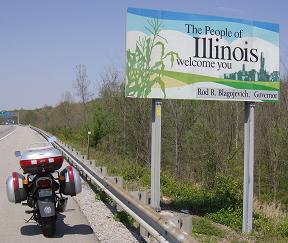 Illinois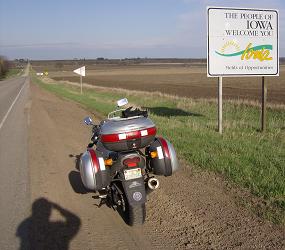 Iowa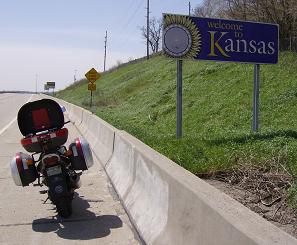 Kansas

Kentucky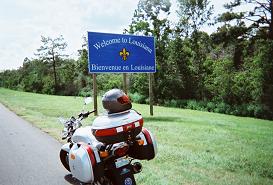 Louisiana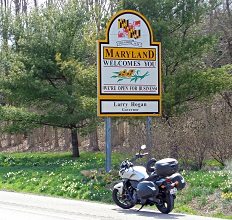 Maryland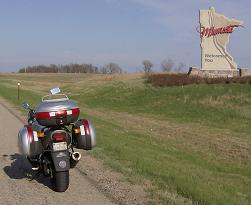 Minnesota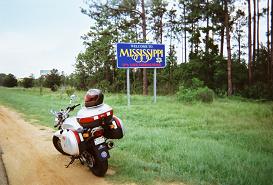 Mississippi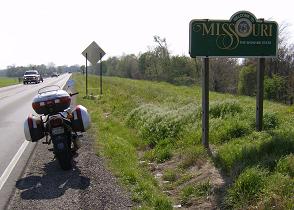 Missouri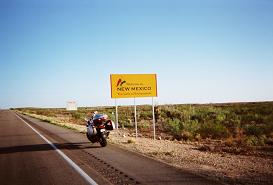 New Mexico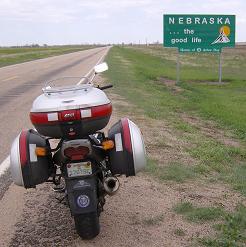 Nebraska

North Carolina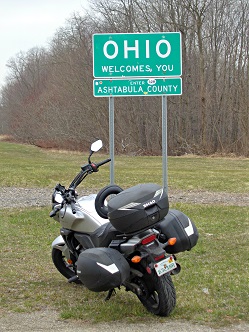 Ohio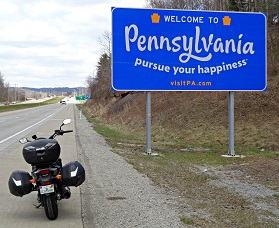 Pennsylvania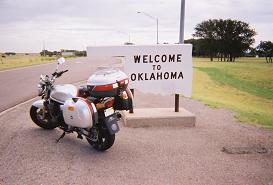 Oklahoma

South Carolina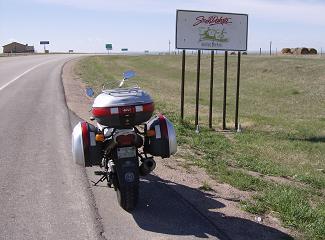 South Dakota

Tennessee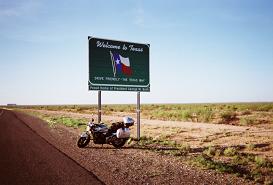 Texas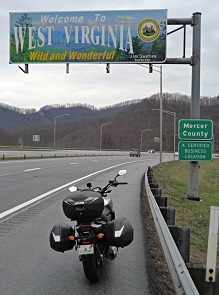 West Virginia
X
---
My Travel Philosophy
John Steinbeck once wrote in his book Travels with Charley that "you don't take a trip. A good trip takes you." I fully agree with him, and I would add my own corollary to that law: the best part of any trip is almost always something you didn't arrange or expect.
These are my personal rules for cross-country motorcycle touring:
NO TRAILERS!! That's cheating. Ride.

Have a plan.

Be prepared to abandon your plan and make it up as you go along.

Don't waste time getting out to the general area you want to explore. Go, go, go. Use the Interstate Highway System. It's a wonderful thing.

But . . . once you get there, relax and slow down. Buy a detailed, fine-scale local road map. Find things like historical markers, geologic sites, archaeological digs, art districts, state parks, battlegrounds and other weird, cool, neat stuff that lies off the well-beaten path. Check for festivals and events that aren't widely publicized.

Now that you're here, find the good roads. Good roads are relatively easy to spot on a map. Roads that don't seem to go anwhere in particular are the best. Squiggly ones are even better. I also look at topographic contour lines; a road that passes through massive elevation changes is promising. Likewise, a road that runs along the edge of a valley or gorge is desireable. Roads that follow rivers, lakes or coastal boundaries are often excellent. Many roads are even officially designated as scenic byways -- that makes route planning even easier.

Ride slowly, look around, stop often. Park the bike, find a trail. Sit on a rock, eat a sandwich and watch the waterfall. This is what you came for. Savor it.

Try to eat at restaurants that aren't national chains.

Avoid "tourist information centers," "major attractions" and "gift shops." They're all the same and rarely worth bothering with.

Stay at bed & breakfast inns or small, private campgrounds whenever you can. Listen to the owners. They can tell you where to find all the cool things that you won't find in the Yellow Pages or the brochures.

When you find yourself faced with a choice between doing something and not doing it . . . do it. You won't learn anything by doing nothing. I often regret things I didn't do. I never regret things I did, even if I didn't enjoy them at the time. Some of my funniest and most exciting "road" stories are about things that seemed like minor disasters while they were happening.

Don't be discouraged when you break down or get lost. It's all part of the adventure.

Be careful. Getting hurt spoils the fun.
---
Click HERE to go back to the TRAVEL page.