Spring Tour '07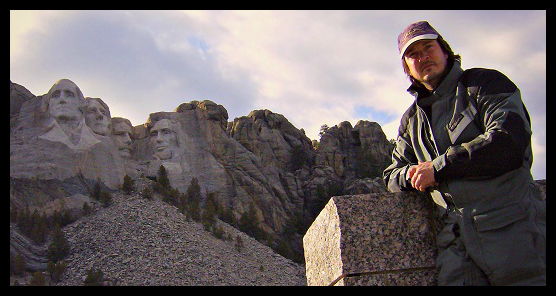 In which Austin takes a week and a half off and goes for a little ride.
Thursday, April 19th through Sunday, April 29th, 2007
11 days
4,259.2 miles
13 states
. . . 1 motorcycle
(The full narrative of the trip is at the bottom, below the photographs.)
More fun trivia:
Total number of gas stops: 30
Total number of gallons of gas purchased: 100.3
Average fuel economy: 42.5 miles per gallon
Average number of gallons per gas stop: 3.3
Average distance between gas stops: 142 miles
Total number of eskimo attacks: 0
Most miles in any one day: 730 (Day 9 -- from Pacific Junction, Iowa to Nashville, Tennessee. Whew!)
Average daily mileage: 387.2
Number of new states added to my collection: 8
---

The yucca blooming in my front yard right before I left on Thursday morning. According to Native American tribal lore, this is a sign of good luck for the coming journey! (OK, I just made that up.)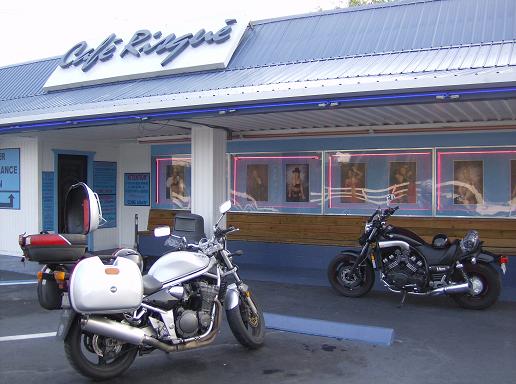 Parked outside the disreputably famous Cafe Risqué next to a Yamaha V-Max.
(The bike's owner, as it turned out, was a regular.)


Proceding northbound on US 129 through the Georgia mountains on my way to the Two Wheels Only motorcycle resort, I often found myself sharing the road with bicyclists. Many of these roads were steep, narrow and treacherous -- I was impressed by these riders' physical stamina as well as their courage.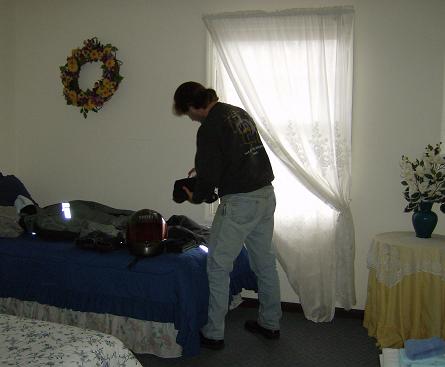 My room in the upstairs lodge at Two Wheels Only.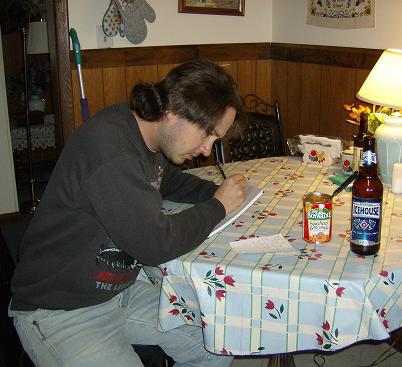 Updating notes in my travel journal (from which this account was later adapted) and eating dinner in the guest kitchen at Two Wheels Only. Dinner consisted of one can of Chef Boyardee Spaghetti & Meatballs and one 22-ounce bottle of Icehouse, which any writer or motorcyclist will tell you represents the perfect food-to-alcohol ratio.


A few hardy souls motorcycle camping on a COLD Friday morning at Two Wheels Only. I was glad not to be among them. No kidding, there was frost all over my bike when I went downstairs to start loading up at dawn!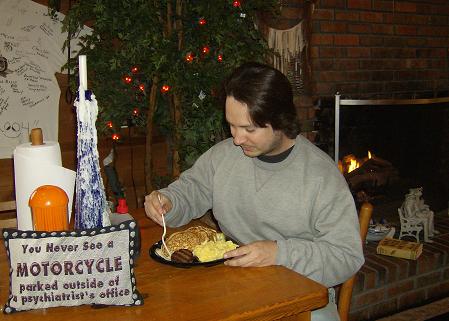 Enjoying a fine fireside breakfast at
Two Wheels Only
shortly before hitting the road for Nashville.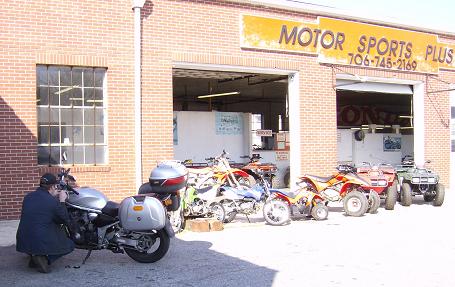 Having a minor but bothersome ignition problem fixed in Blairsville, Georgia.


Pausing to enjoy the scenery at an overlook along US 129 in the Nantahala mountains of North Carolina.


I had to snap a quick pic of this other motorcycle because I loved the layout.
Cupholders! GPS! Now this guy has the right idea!
Someday I'll have a bike like this.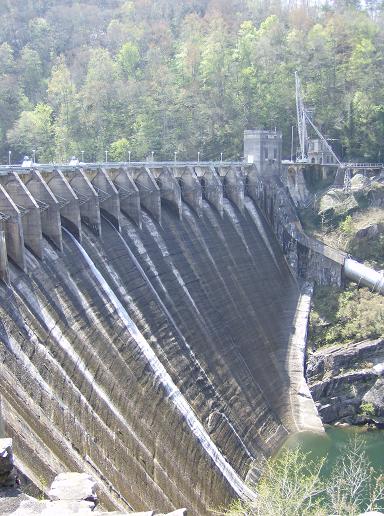 The Tapoco Dam on the Cheoah River (where Harrison Ford jumped to get away from Tommy Lee Jones in the movie The Fugitive) next to US 129 just south of Deal's Gap. I pulled over here to catch my breath after almost being run right off the road by a southbound 18-wheeler taking up both lanes as it came around a tight corner. Probably not quite as exciting as the dam-flinging, but close. (If "to defenestrate" means "to throw someone out a window," what is the word for "throwing yourself from the top of a dam"? It's a curiosity about matters such as these that kept me from ever really going anywhere in life.)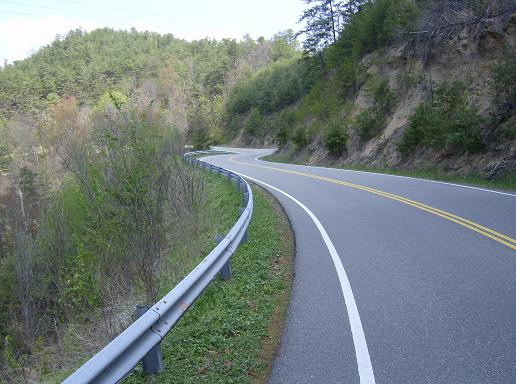 Here is a section of the legendary "Tail of the Dragon," an 11-mile stretch of US 129 through Deal's Gap in Tennessee with 318 curves. No picture can adequately capture how relentlessly twisty this road really is.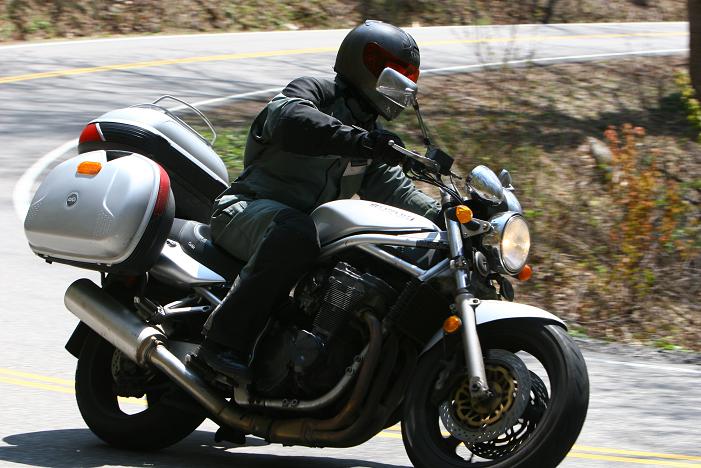 Me and
Pancho
carving our way through Deal's Gap.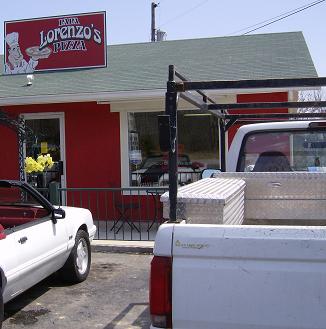 Lunch break: a hole-in-the-wall pizza joint along I-40 between Knoxville and Nashville.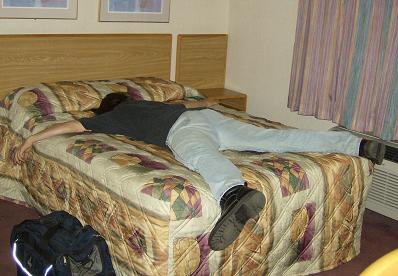 At the hotel in Nashville.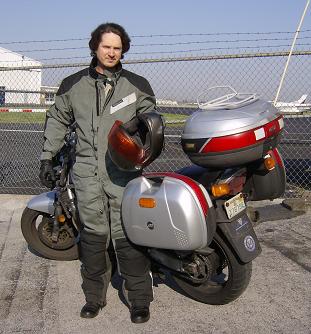 Standing in front of our company hangar at Nashville International Airport.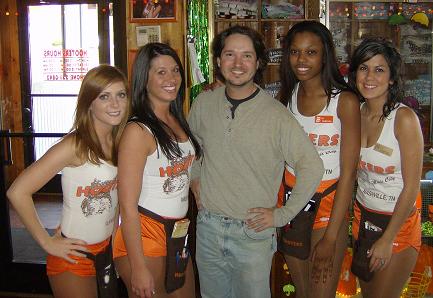 I made one exception to my "No National Chains" rule, and this was it.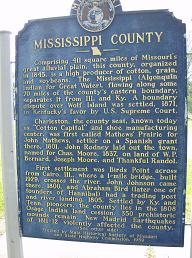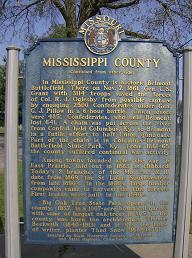 A historical marker along US 60 in rural Missouri. I love stuff like this!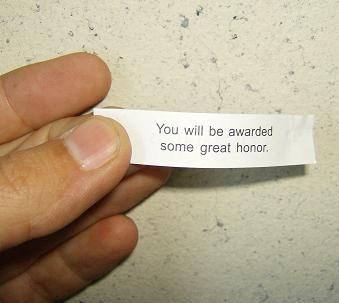 My fortune. Hmm.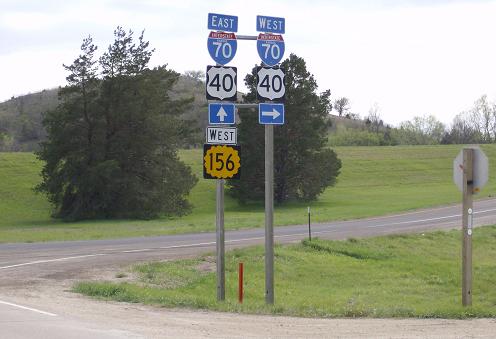 The spot in Kansas where the crash happened.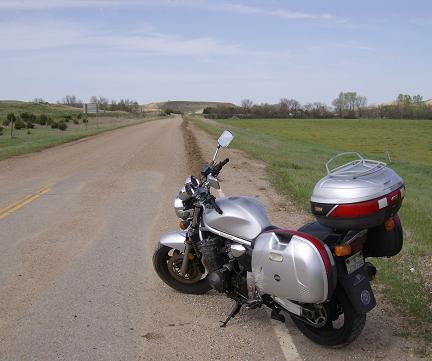 Here is Pancho immediately after being returned to an upright position. Notice the damage to the left side case, the left front turn signal and the bottom of the left side of the crankcase. Also notice that the left handlebar is actually in contact with the gas tank. That became the crux of a major mystery later.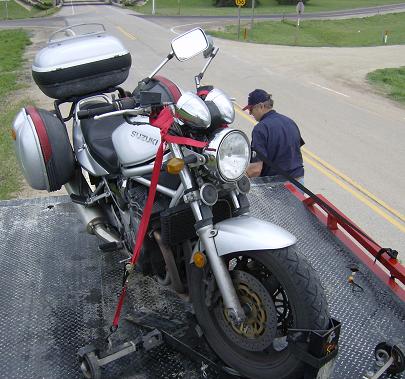 Loading up
Pancho
onto the tow truck for the trip to Salina Powersports to get fixed.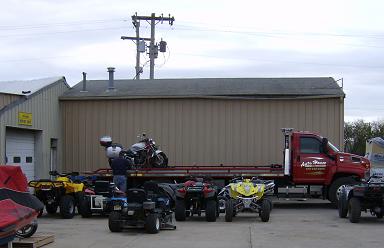 Dropping off
Pancho
at Salina Powersports.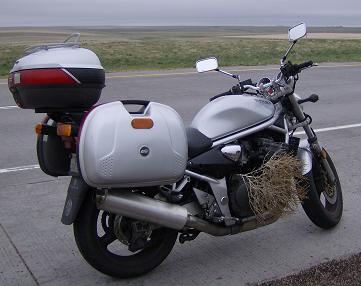 Yes, that's a tumbleweed.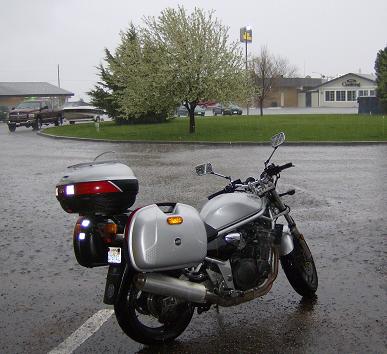 I took this picture right after I parked at the hotel and just as the storm was closing in. If you look very closely at the enlarged, high-resolution version of this image you can see the ice pellets beginning to fall. I was incredibly glad to be off the road.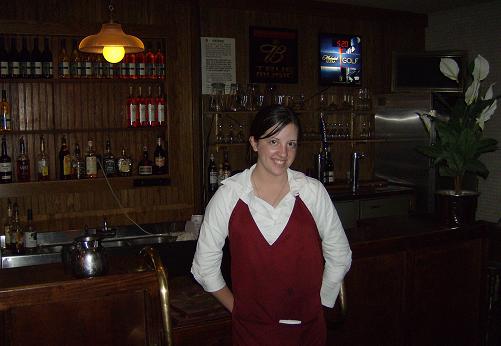 Whitney the bartender. Soon she would be very, very busy!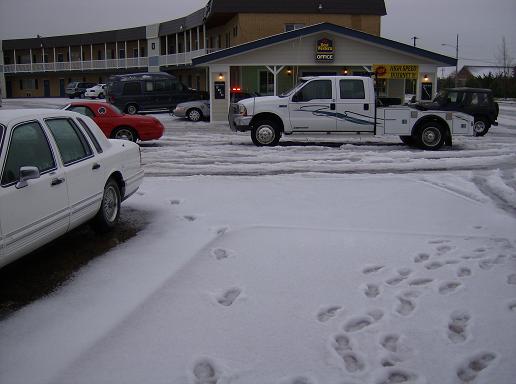 A few minutes later, this was what the parking lot looked like. That's not snow; it's hail and sleet!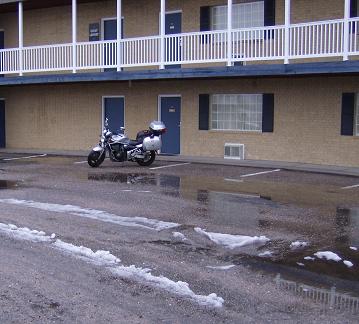 Slushy residue fills the parking lot Wednesday morning.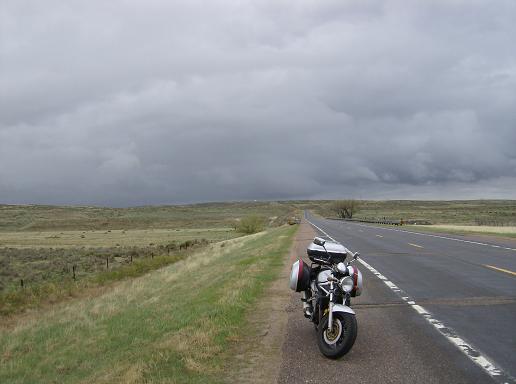 Storm clouds along the Colorado-Nebraska border.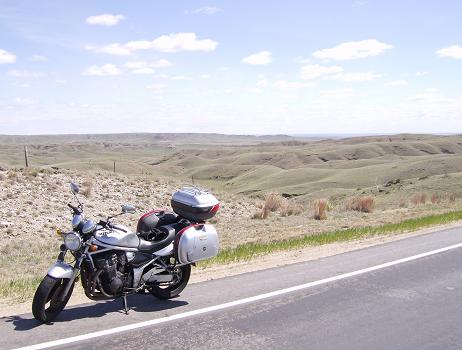 Grassy hills alongside US 385 in western Nebraska.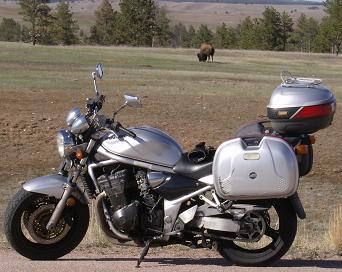 Buffalo!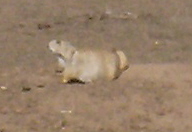 My only successful attempt to get a picture of a prairie dog.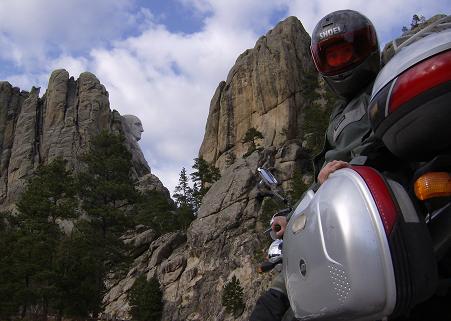 Hey, wait a minute. Is that a profile of George Washington up there? Yes, indeed. I really like this shot because it shows Mount Rushmore from a different perspective from what we're all so used to seeing. Also, it really captures the rugged natural beauty of the Black Hills, which would still be well worth a visit even if a fanatical KKK supporter hadn't desecrated a mountain the Sioux consider holy by carving the faces of four American presidents into it. This area really is spectacular, providing one awesome, breathtaking view after another as the road zigs, zags, loops and dips. Just watch out for the deer.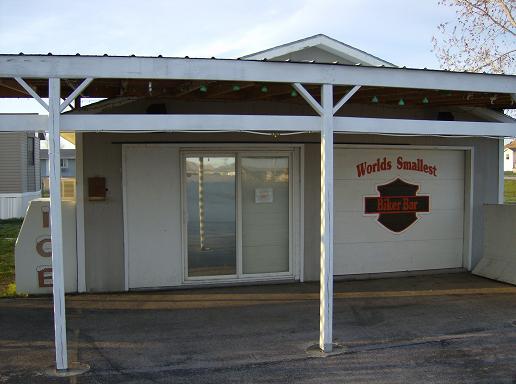 "The World's Smallest Biker Bar" in New Underwood, South Dakota.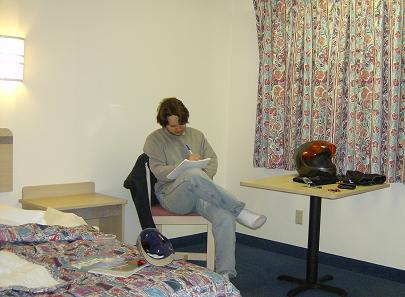 Updating notes in my travel journal at a Motel 6 in Wall, South Dakota.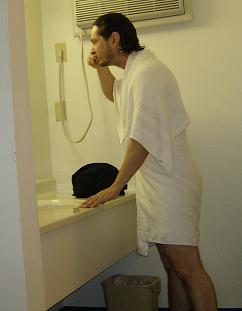 See that black bag? Everything I need for a two-week trip (other than clothes) is in there! You know one thing I love about being out west? The humidity is so low. You get out of the shower and boom, your hair is dry. It's definitely not like that down here in muggy, tropical, bug-infested Florida.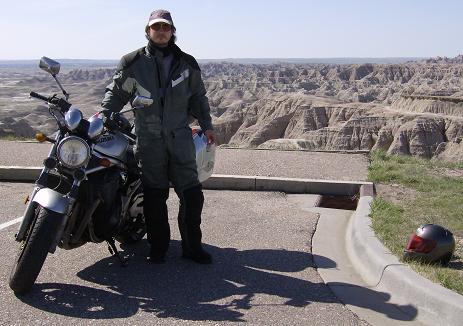 Badlands National Park, South Dakota.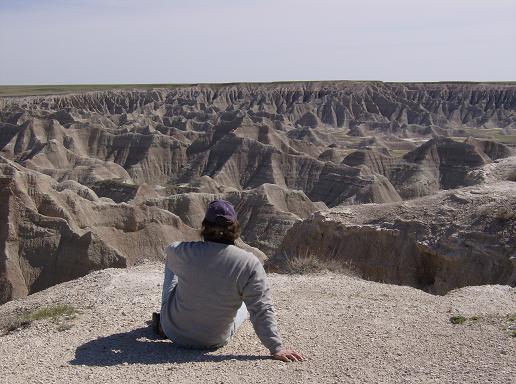 Surveying this ancient, eroded landscape, it's difficult not to contemplate the inexorable march of time.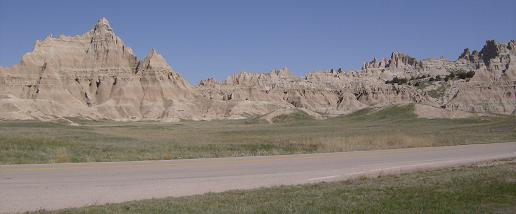 A panoramic view of the badlands.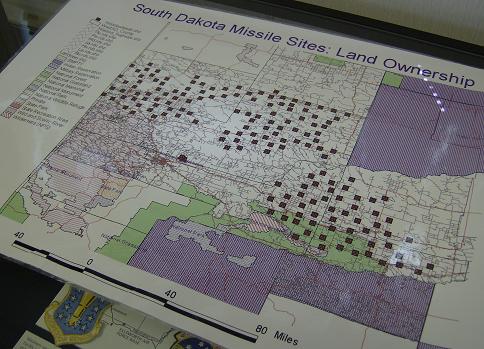 A map of former Minutemen II missle sites in South Dakota.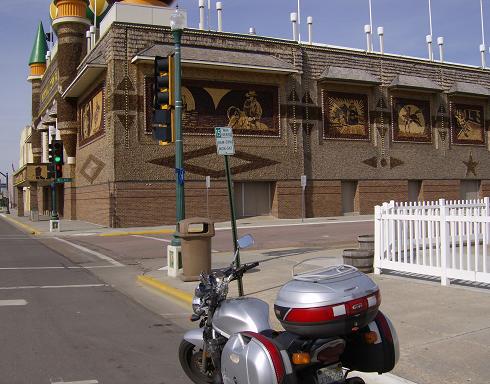 Parked in front of the Corn Palace in Mitchell, South Dakota. Built in 1921, it's completely covered on the outside with murals made out of, yes, actual corn. I get such a kick out of roadside attractions like this. It's pure, classic, kitschy Americana.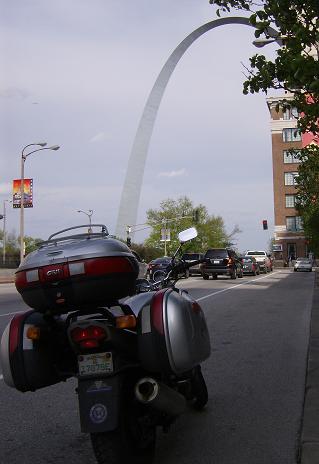 Parked in downtown St. Louis with the Gateway Arch in the background.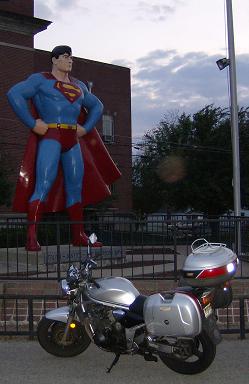 The giant Superman statue in Metropolis, Illinois.


I don't generally stop at gift shops to buy souvenirs, but in this case I was willing to make an exception. I bought a bottle of Old Number 12 here at the distillery store and a genuine George Dickel shot glass in which to enjoy it. I brought them both home with me and upon arriving back at my house shortly before midnight on Sunday I poured myself a shot of this fine aged Tennessee sippin' whisky (spelled without an E) and drank a toast to a highly successful trip.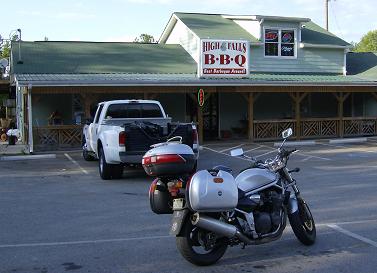 Places like this are always where you find the best food!

Introduction
My motto is, "adventure results from poor planning." The secret to a successful and enjoyable long-distance motorcycle trip is lots of careful, thorough preparation. "But Austin," you protest, "won't over-planning take all the fun out of it?" Ha! Don't you worry about that, kiddo. Excitement -- whether it comes from road closures, traffic jams, accidents, breakdowns, getting lost, having problems with your gear, dealing with unforecast storms, getting arrested for drunk and disorderly conduct in three different states, whatever -- is all but inevitable. There will never be a shortage of unexpected developments. If you're well prepared (or at least adequately prepared) to deal with them, the ride will go on. And if you're quite lucky indeed, a few of those surprises might even be of the nice variety.
I have a list of 12 rules that I have created for myself. I call these 12 rules "My Travel Philosophy." (It's posted at the bottom of my Journal of State Signs page.) Rule #2 is "Have a plan." Rule #3, however, is "Be prepared to abandon your plan and make it up as you go along." This trip serves as an excellent example of both Rule #2 and Rule #3. I had mapped out my daily mileage, compiled a catalogue of all the specific things I wanted to see and even made advance reservations for every single night of the trip. When on Day Five I had to make a major change and then on Day Six things began to totally unravel, I did not get discouraged. Instead, I came up with a completely new plan on the spot. I got back on track with my original plan by the end of Day Nine. Some of the best stuff on this whole trip happened during that massive detour. It's all part of the fun of being on the road.
I'd also like to add that serious, hardcore long-distance riders with the right motorcycles and the right equipment can easily cover 1,000 miles a day or more. (I've only done that once so far, on my last big trip, when I went from Orlando to Beaumont, Texas in a single day.) That wasn't the objective on this journey -- the goal was simply to continue learning the fundamentals of long-distance riding and see some of America in the process.
Day One
Thursday, April 19th, 2007
My alarm went off at 4:30 A.M. I always like to get an early start on the first day of a big trip. I had already packed and loaded Pancho the night before, so after a quick shower I was ready to hit the road. As I was leaving, I noticed that due to the recent heavy rains the yucca plants in my yard had erupted into multiple clusters of creamy white blossoms. I knew the display would be long gone by the time I got back in a week and a half, so I took a quick picture in the pre-dawn darkness to capture the transient beauty before I departed. I chose to take it as a positive omen.
Strangely, I soon realized that I was actually quite cold. How ridiculous: I was on my way up towards Colorado, and here I was, already freezing my butt off before I even got out of Florida! I had not put on enough layers. Embarassed by my lack of foresight, I pulled over just before reaching the junction with I-75 and added some additional clothing. Well, the trouble is, once you're already chilled it's too late. Putting on more apparel doesn't really help much. You need to bundle up before your body temperature drops. I was glad to be reminded of this lesson at the beginning of the excursion! As a matter of fact, that first morning on the road as I was leaving Florida was the second coldest I would feel on the entire 13-state odyssey. (Day Seven would later turn out to be the very coldest of all. I shiver just thinking about it. But I'll get to that later.)
I stopped at the Cafe Risque to thaw out and have breakfast. In all my travels, the Cafe Risque is still the only restaurant I know of where you can be waited on by a woman with no clothes. Why has this idea not caught on more widely, that's what I'd like to know. After two mugs of hot chococate, I was beginning to feel much better. My fingers were stone numb at first, but then I began to experience a burning, tingling sensation in them as the circulation was slowly restored thanks to the heat of the ceramic mug I was clutching.
It was very quiet in there, almost eerie. The only sound came from the TV. They had CNN on. The Virginia Tech massacre had just happened, and it was all over the news. They hardly talked about anything else. A handful of other patrons, mostly truckers, were also in there, and a couple of them were reacting to what the reporters were saying. At one point a reporter said something about gun control and a trucker angrily yelled "that's not true!" at the screen. Another trucker asked our server, "Cherry," whether smoking was allowed. "Cherry" informed him that smoking was not allowed in any Florida restaurant. The trucker scowled and snorted that he was going to "scratch Florida off" his "list." I wondered if this meant he would never again accept jobs that took him to Florida, but I did not ask him for clarification.
I ordered breakfast: two eggs over hard, ham, hash browns and wheat toast with grape jelly. By now my hands were warm enough that I felt I could actually operate a fork.
"Cherry" has the perfect personality and attitude to be a nude waitress: she's bright, friendly, talkative and eager. Plus, she obviously loves being the center of attention. She was the only girl on duty, so she had the undivided spotlight as she walked around the restaurant completely naked except for a pair of blue and white sneakers with athletic socks. She wears six-inch platform heels when she's dancing, she explained, but it's hard to serve food that way. No one was dancing. The stage was dark. "Cherry" had been working there for 10 years. She became engrossed in an enthusiastic conversation with the guy at the next table over on the subject of avocado exports.
I left in a good mood, warmed up inside and out and ready to continue on my way. "Cherry" is one of the happiest, most cheerful people I've ever met. If it's a facade, it's a brilliant and flawless one.
Soon I crossed the Georgia line. I stopped to buy gas at the Magnolia Planation, a place where they sell syrup, peanut brittle and fudge to tourists.
Central Georgia is a pleasant, if somewhat monotonous, ride. Pastoral and agrarian scenes follow one another in a steady procession of cotton fields, cattle ranches, peach and pecan groves, gently rolling red clay hills and horse farms. Once the sun was high, I was no longer cold. It had turned into a mild, partly cloudy day, ideal for being on a motorcycle. I was grateful for both the good weather and the light traffic on I-75.
Intelligent layering is the key to comfort on a long motorcycle trip. When I left, for example, I was underdressed. I remedied that when I stopped. Northbound on I-75 through the Gainesville area, I was wearing a long-sleeve T-shirt and two sweatshirts under my riding suit. I was also wearing a balaclava and two neckwarmers, a tight one and a loose one to trap warm air. (The neck is a particularly vulnerable area; that steady, cold windblast under the chin of your helmet can suck the heat right out of your body no matter how snugly your jacket fits.) As the day warmed up, I removed the balaclava, one of the neckwarmers and one of the sweatshirts. I also took off my insulated gloves and put on my regular leather pair. As I climbed higher into the mountains and the sun sank lower in the western sky, however, I put the other neckwarmer back on and switched back to the insulated gloves. It's a constant process of fine-tuning your ensemble to adapt to changing conditions.
The central Georgia plains presently gave way to the north Georgia mountains. I had to stop to grab some beer while I still could because Suches County is -- get ready for this -- dry! That's right, there are still dry counties in the U.S. Now that's a true national disgrace, don't you think?
Wolf Pen Gap Road (also known as GA 180) is not especially well known, but it's a hell of a ride. It's only 12 miles long, connecting US 129 on the east side of a high mountain ridge with GA 60 on the other, passing through (as you might guess) Wolf Pen Gap. Over the span of those 12 miles it does some pretty wild things. It's very narrow -- for much of its length there is little or no shoulder, just an abrupt rocky dropoff. There are very few guardrails. If you went off the road, you'd hang in the air for a couple of seconds and fall a hundred feet or more before hitting the treetops below. There are a few spots where you literally have to slow down to 10 miles per hour to make it around tight corners. Although it passes by a few houses, farms and parks along the way most of the middle section of Wolf Pen Gap Road is completely remote, high in the shady green Appalachian forest. There are a couple of pullouts where you can get off the road and stop to look around. When you shut off the engine, you are immediately enveloped by this huge quietude -- you hear nothing but the wind in the leaves, the chirping of birds and the scurrying of small animals in the bushes.
After whirling and tumbling down out of the high country, Wolf Pen Gap Road ends at GA 60. Make a left turn there and then Two Wheels Only will be almost immediately on your right. I have already posted five pictures of that place on this page and 14 more on this page, so I won't go into any more detail about it here other than to say it's one of my favorite riding destinations in the country.
A mere 541.2 miles and just under 13 hours after leaving my driveway I pulled into the gravel parking lot of Two Wheels Only. I went upstairs, unpacked a few things, ate a small can of spaghetti and drank a large bottle of beer, updated the notes in my travel journal and then went straight to bed. There were a few other people staying in the lodge -- anywhere from two to four -- but I never had any contact with them. I had already been fast asleep for a good long while by the time they got in for the night.
Day Two
Friday, April 20th, 2007
It was a cold Friday morning. I woke up feeling very well rested and also very relaxed, having had no contact with anybody for over 12 hours. When I went downstairs I found a thick coating of frost on my bike! Frost? What the . . . ? For a Florida-based rider like myself, finding frost on your motorcycle is a bizarre and memorable event indeed, like finding a stranger in your living room.
One of the best things about Two Wheels Only is the food, which is consistently excellent. The place really is a true bed & breakfast inn, although you get to order what you want like you would in a restaurant rather than taking whatever your hosts decide to serve, as is the case with most B&Bs. Food is available starting at whatever time anybody shows up to fix it. That can be anywhere from 6 to 9. The kitchen staff (which can be one person when there is not a lot going on or a whole crew during a large event) take their time and prepare high-quality, home-cooked meals. But this is not the kind of place where you should be in a hurry. Just sit by the creek in a rocking chair and take it easy.
At this point several other riders also appeared to eat. Some were camping outside (brr!) and others were staying upstairs like me. We engaged in the usual small talk about bikes and travel while waiting for our food to arrive.
After a hot, hearty breakfast eaten next to a nice warm fire I was ready for the ride up to Nashville -- via the scenic route through the infamous Deal's Gap, of course!
On most trips like this I find myself faced with the need for at least one improvised field repair. Once, for example, I was about 400 miles from home when the mounting hardware that secures the headlamp case to its bracket somehow managed to work its way loose and fell off, leaving the headlight hanging askew, shaking and wobbling. So I stopped, obtained a nut, bolt and washer of (approximately) the right size and reattached it. To this day, my headlamp case is slightly asymmetrical in its bracket: the non-original hardware is still on there on the left side.
Another time, riding through Texas, I noticed oil leaking out of the crankcase and all over my left foot. I was two days into a nine-day trip, so I burst out into a free-flowing stream of highly inventive combinations of very rude and profane words. As an act of utter desperation, I pulled into a truck stop and purchased a tube of high-temperature gasket sealant. I globbed it liberally onto the leaky area, hoping that it would hold until I could get the bike to a dealership where they could carry out the expensive and time-consuming process of replacing the gasket. Well, that was 15,000 miles and three oil changes ago, and that ugly little blob of hardened sealant -- although it does lead to a lot of questions from people checking out my bike -- is still holding tight.
This trip was no exception. I had begun to notice a couple of days before I left that there was a short but disconcerting pause between the moment I pressed the starter button and the moment the starter actually engaged. The pause was only a couple of seconds, so I didn't worry too much about it. Once on the road I discovered that the problem was temperature-sensitive: the colder the air, the longer the pause. When it was cool, the pause could be 15-45 seconds. When it was cold, it could be a nerve-rattling two minutes.
Friday morning at 9 A.M., fully loaded, fully geared, straddling the bike, sidestand up, front wheel pointed out towards the road, I hit the starter button -- and waited. And waited. And waited.
Nothing.
I was counting to myself inside my helmet. Two minutes. Three. Four. I was getting nervous and angry. Another rider came out and wanted to know why I was just sitting there like that. Five minutes. Six. It was a very cold morning. Since the problem first manifested itself, I had never tried to start the bike when it was this cold. I was frantically trying to figure out what to do next. I entertained the idea of finding a hair dryer and a very long extension cord. Obviously there was a loose or broken wire somewhere, but which one? And where was the discontinuity? I had no way of knowing. Seven minutes, eight minues, nine minutes. If I had to call a tow truck it would ruin my whole schedule. It would take him half the day just to get up there and then load the paralyzed bike. And who knows how long to get to the nearest repair shop, or how long it would take for them to analyze and fix the problem? And how much would all of that cost? I would have no time to do anything after that except ride hard directly to Nashville by the shortest possible route, probably not arriving until late at night. (And I had to work early the next morning.) And what if it ended up being a complex and costly problem to fix? What if they had to order parts? My mood became foul. After all these months of planning and anticipation, my whole trip was falling apart on only the second morning.
Ten minutes. Suddenly, without warning -- VROOOM! The starter engaged and the engine roared to life. Yes! I could not have been happier if I had just won the state lottery.
With a joyful heart I got my lucky ass on the road, vowing not to shut the engine off until I reached the powersports store in Blairsville, where I had found helpful service technicians in the past.
A thrilling trip up and down the fabulously gorgeous and utterly terrifying Wolf Pen Gap Road and a short dash up US 129 and I was pulling into their parking lot. I left the engine running as I stepped inside to find a mechanic. A pair of them came out to have a look and at first they, too, were baffled. I cringed a bit when they turned off the ignition. It didn't take them long to discover the source of the problem, however: it was one of the safety cutoff switches, the one connected to the clutch. To temporarily "fix" it, one of them removed the switch and jumped the wire, attaching it to itself, giving it a twist and then wrapping it up in electrical tape. He advised me that I could get it fixed for real eventually by replacing the faulty switch -- if I even wanted to bother. I doubt I will. One more hastily rigged patch on a bike already loaded with them won't hurt.
My trip was saved! I was positively ecstatic. "How much do I owe you for this," I asked. He thought for a minute and then shrugged. "Ten bucks." I gave him 20.
I put all my gear back on and continued northbound on US 129. I stopped several times to take in the grandeur of the Nantahala Mountains of North Carolina. I took some pictures, but they never come close to doing the real thing justice.
Coming around a corner a little further up US 129, I passed a motorcyclist coming the other way. He gave me an urgent and emphatic "slow down!" hand signal, so I did. About a second later, here comes this eighteen-wheeler taking up almost the entire road! I had to swerve way to the outside of my lane to avoid getting run over. What was a truck like that doing on a road like this anyway? After that incident I felt like taking a little break, so I pulled over and stopped. I happened to be at the Tapoco Dam overlook, so I whipped out my digital camera and took a picture. This was the spot where Dr. Richard Kimble threw himself headlong out of a drainage tube to escape from Marshal Samuel Gerard. That scene, while exciting, does not give one quite the same gut-churning vertigo as one experiences while standing near the edge of the real thing and looking down. A moment after I stopped another rider stopped, this one on a Honda Gold Wing fully outfitted for serious long-distance travel, right down to the GPS and cupholder. I was so delighted by his setup that I asked him if I could take a picture. He agreed with a smile, proud of his bike.
Soon I got back on my own (somewhat less luxurious) bike and continued towards Deal's Gap. "The Tail of the Dragon" is everything it's cracked up to be. I've ridden it (northbound and southbound) several times over the years. Nothing I can say here can effectively describe the constant climbing and diving hairpin switchbacks. It's more of a roller coaster than a road. If you Google it, you will find that this one 11-mile section of US 129 is world renowned for having 318 curves. (I'm not sure how they arrived at that figure, either. What, exactly, constitutes a curve? How many degrees does the road have to bend before it becomes a curve? What if it bends slightly to the left and then bends slightly to the left again? Is that one curve or two?) There are a number of spots where maintaining the 30 MPH speed limit is quite challenging. The best adjective I have been able to come up with is "relentless." It has evolved into something of a Mecca for motorcyclists as well as sports car enthusiasts.
As I came around one corner, I spotted a "wide load" lead vehicle coming the other way, its yellow lights flashing. No, that can't be right, I thought. This road was barely wide enough for a pair of motorcycles to ride side by side!
And then here it came -- yes, a tractor trailer pulling a houseboat. I don't even mean a small houseboat, either. A great big freakin' houseboat. This thing literally took up both lanes.
You have to understand that "The Tail of the Dragon" drops off sharply on one side and rises almost vertically on the other, its many curves so tight that even an experienced rider or driver has to carve through them with great care or risk wiping out. I didn't even think it was possible for something that size to navigate a road like this.
So I came to a complete stop as precariously close to the very, very edge of the pavement as I could, the mountainside plunging precipitiously away just beyond my right foot.
The houseboat passed by so closely that I could have reached out and touched it, the truck pulling it at maybe 5 or 10 miles per hour. It was followed by a small armada of escort vehicles, plus (of course) a parade of cars, trucks and motorcycles unfortunate enough to be stuck behind it. I wondered what kinds of fees and permits were involved in an undertaking like this. And naturally I wondered where the hell that boat was going.
US 129 became a fairly dull four-lane suburban highway as it approached Knoxville, passing through the usual residential sprawl, warehouse retail stores, movie theaters, fast-food restaurants and shopping malls. The fun part of today's ride was over. I jumped onto I-40 westbound and started pounding out the miles towards Nashville.
About halfway through the three-hour Knoxville-to-Nashville leg I stopped for lunch. The place I found was called Papa Lorenzo's Pizza, and it was attached to a gas station. The "dining room" itself was tiny and only had room for about six or seven small, square tables. I got two slices of pepperoni pizza and a Coke and sat down to eat. There was a young lady in there with two rowdy, noisy kids running and playing and fighting. I would estimate their ages at 4 and 6, although I am a notoriously poor judge of such things. She looked tired. I quickly gathered from an easily overheard conversation at the next table over that she was there to hang out with her sister, who was the girl working behind the counter. At one point one of her kids tried to grab my helmet from the table. It clearly fascinated him. She pulled him away and apologized, explaining, "he likes your motorcycle hat." My motorcycle hat? She pronounced the word "hat" with two syllables: "He lahhks yer motorcycle hay-ut." She was wearing a tight pink top with a deeply plunging V-neck over a black padded push-up bra. Her top said "Hollister" across the front in white script letters. I see that a lot these days. Hollister, California is the site of the annual July 4th Hollister Independence Motorcycle Rally. In 1947 there was some rowdiness at the event that the press escalated into a "biker riot." This was the basis for the 1954 film The Wild One starring Marlon Brando as brooding, complex motorcycle gang leader Johnny Stabler. (He was riding an English motorcycle, by the way: a Triumph Thunderbird 6T.) Sometimes I wonder if the people who wear the Hollister apparel know any of this. Anyway, she was a naturally well endowed lady and whenever she bent over to discipline one of her rambunctious offspring she practically fell out of that Hollister-emblazoned top. It was difficult not to stare. I found myself humming the tune to the Trace Adkins song "One Hot Mama."
I arrived at our company base at Nashville International Airport at around 5 P.M. (4 P.M. Central, since I had crossed the line at some point during the day) and I went into the hangar to put in a very brief appearance. After saying a quick hello and making my presence known I hastily backtracked to the familiar Sleep Inn on Percy Priest Drive where I stay 6 times a year. By 5 P.M. local time I was up in my room scribbling notes in my journal and soon after that I was dead asleep.
Day Three
Saturday, April 21st, 2007
Saturday (and, to a lesser extent, Sunday) constituted the "work" component of this working vacation. I had two recurrent checkrides to give on Saturday and another one on Sunday. I was up at 6:30. I showered, dressed and had breakfast at the hotel: one apple, one banana, one hard-boiled egg and one slice of whole-wheat bread. Then I rode to the airport.
The weather was good for flying, clear and mild. I administered the knowledge test to the two pilots and then we went up and flew. Each checkride took about an hour and a half. Mercifully, they were uneventful. I was finished and off duty by 2 P.M.
Despite my self-imposed restriction on eating at restaurants that are part of any national chain while I'm on the road, I did make one exception. It is traditional for me to eat lunch at the Nashville Hooters off I-24. I always order the same thing: buffalo chicken strips (hot) and a basket of steamed peel-'n'-eat shrimp.
There is a "back way" from the airport to the hotel along a surprisingly twisty, surprisingly rural road that takes me past rustic little country farmhouses set back in the woods. As I rode, I had my riding suit mostly unzipped. I couldn't believe that I had been so concerned about the cold weather -- it was almost uncomfortably warm.
The greatest threat to this trip from the beginning had been the very real possibility that a spring storm could sweep across the Rockies and/or the Midwest and cause severe wintry conditions that would quite literally stop me in my tracks. As of that sunny Saturday afternoon, that prospect still loomed, but it seemed remote, unlikely.
Day Four
Sunday, April 22nd, 2007
I had a hotel breakfast again and headed over to the airport. I only had one more checkride to do and we were done by noon, which freed me to hit the road for Missouri.
US 60 through western Kentucky and eastern Missouri was surprisingly scenic; I passed many large groups of motorcyclists enjoying this fine, twisty country highway on a beautiful Sunday afternoon. It seems like everybody in the world suddenly has a motorcycle on a day like that. (When the weather turns to crap, however, I find that I am usually just about the only one still out there riding. Funny how that works.)
Where US 60 crossed the Mississippi River, it became a long, high, narrow, truss-type two-lane bridge. But it was under construction, reducing it to one lane, making the crossing somewhat exciting. Tugboats plied the waters far below, moving massive floating pallets stacked high with shipping containers. It was a beautiful view, although I couldn't afford to devote too much attention to it.
I arrived in Perryville, Missouri and checked into the Comfort Inn at around 5 P.M. I had my usual late lunch / early dinner at the Chinese buffet across the street. (I generally only eat twice a day when I'm on the road.) When I cracked open my fortune cookie, it told me that I would soon be awarded some great honor. I wondered what that might be.
There was a bar behind the restaurant called (no kidding) The Back Door Lounge. I was halfway tempted to go in and check it out, but tomorrow was going to be a long day and I wanted to get an early start.
I did walk over to Wal-Mart to purchase a new pair of shoes before I went back to the motel. The shoes I was wearing were flimsy and lightweight to begin with, not really suitable for serious riding, and they were so worn out that the soles were paper-thin and split down the middle. There were so many holes in the stitching that when I was riding I could actually feel wind circulating around my feet. They felt more like moccasins than shoes. So I got a nice sturdy pair of tall, heavy-duty work boots: insulated and steel-toed with thick soles and deep tread. I also bought two pairs of heavy-duty reinforced socks, the kind designed specifically for use with steel-toed work boots. Then I walked back to the motel and went to bed.
Day Five
Monday, April 23rd, 2007
My alarm was set for 6, but I was awake by 5:30 and up by 5:45.
The Weather Channel's storm experts were chattering excitedly about the potential for extremely severe conditions across the Midwestern states. They were calling for a "significant outbreak" of tornadoes in the central plains. One of their on-camera meteorologists stated gravely that today could be "one of the most dangerous weather days of the entire year" for the region. A solid block of red was painted over about 85% of Kansas on their TV map. Today, of course, was my day to ride across Kansas, almost end to end. This ought to be interesting! At times like this you basically have two choices:
Give up, turn around and go home. or
Sigh, take a deep breath, set your jaw, lace up your big-boy boots and forge on ahead.
At this point, if I had been riding with a group or a companion, I'm sure someone would have suggested (or even insisted upon) Option One after listening to that forecast. That's why I ride alone. Well, one of the many reasons, anyway.
It might end up being a long, miserable, scary 12-16 hours, but I decided to go for it anyway. I was on the road by 7. I crossed the Kansas state line at about half past noon.
Somewhere out in the middle of west central Kansas I decided to stop for gas. It would not be inaccurate to describe this place as "the middle of nowhere." There was only one building visible for miles, and it was the service station / convenience store itself. The weather had been a pleasant surprise: partly cloudy, windy but generally pleasant. Nothing nearly as bad as the forecasters had been predicting. (On this same day, however, three tornadoes were on the ground simultaneously near the town of Protection in southwest Kansas.)
After fueling up, I hopped back on my bike to continue westward. As I was preparing to turn onto the on ramp for I-70, I noticed a very nice spot that looked like it would make a good picture. The spot was located right where the pavement ended and it turned into a packed-clay farm road. So I decided to ride over there, stop and take a quick photograph before resuming my trek.
I still don't know what I hit -- maybe it was an oily patch of loose sand and gravel. But in about the amount of time that it takes to say the word "the" out loud, both wheels locked up, the bike fell over sideways, I felt a sharp pain in my left foot and the next thing I knew I was lying over here and my bike was lying on its side over there, engine still running. "Oh fudge," I thought, "I just busted my freaking foot. Gosh-darn it all to heck!" (Or something to that effect.)
I very slowly sat up, crawled over to the bike and shut the ignition off.
The sight of a motorcycle and rider on the ground attracts a lot of attention, and within less than a minute a couple of pickup trucks had stopped to see what was going on. "Are you all right," I was being asked. "Yes, I'm fine," I lied. They offered to help me up, but I didn't want to get up just yet -- I wasn't sure how badly I was injured. My left foot hurt a lot, mainly my ankle and my big toe. Cautiously I tried to move it. I did seem to have some range of motion, so I didn't think anything was broken. Then I remembered the sturdy new work boots I had bought just yesterday afternoon to replace my flimsy, falling-apart sneakers. I wanted to kiss those new boots. They had almost certainly saved me from an ambulance ride.
Two of the men who had stopped were generous enough to pick the bike up for me. Eventually I allowed one of the guys to help me stand up. I couldn't put my full weight on my left foot, but aside from that I mostly felt OK. Looking at the bike, there was some damage. The left handlebar end cap was bent and scuffed, the left front turn signal was broken and there was some cosmetic damage to the lower part of the crankcase. The most obvious damage was to the left side case, which was badly scraped. It was still intact, however, and appeared secure. I was quite impressed that it had not been wrenched from its mounting rack by the force of the impact with the ground. I was also very pleased that it still seemed to be properly closed and latched. If my motorcycle's hard luggage had been torn open, it would have posed a great challenge. The most troubling issue was the handlebars. The people who had stopped to help agreed that there was a pretty bad twist in them. The left handlebar was actually in contact with the fuel tank. If you straightened the front tire, the handlebars were still angled to the left. And if you straightened the handlebars, the tire was angled to the right. I couldn't tell, however, if it was just the handlebars or the front fork itself that was bent. In either case, obviously the bike was not rideable.
Assured that I was all right, they drove off, leaving me there to contemplate what to do next. Obviously I was not going to make Colby tonight as I had hoped. At a moment like this you just have to laugh at the ridiculousness of the situation. At least it was a nice day . . .
It looked like I was going to have to violate my rule regarding my cell phone. (I had vowed to leave it turned off for the entire trip and not turn it back on again until I got back home.) I called Salina Powersports, the closest dealership, and they recommended a towing service that handles motorcycles. I called the towing company and they said they'd have somebody out there within about an hour. I thanked them and hung up. Then I cancelled my reservations in Colby, Montrose and Pueblo. And I made a new reservation in Salina for tonight.
I realized that I was feeling pretty hungry by now, and there was nothing else to do while I waited, so I limped very slowly and painfully under the overpass to the other side of the exit where the service station / convenience store was located. I went inside. I made idle conversation with the man behind the counter while he warmed up the pizza oven. There was only one other person there, an old guy who seemed to be an assistant manager or something. He kept disappearing into the back room and never said a word. No one knew I had just been in a wreck or that my damaged motorcycle was sitting a quarter of a mile away over on the other side of the overpass. The guy behind the counter was affable. He had curly grayish-brown hair and thick rectangular glasses. He told me about some recent thunderstorms that had moved through, and the mayhem they had caused.
After my pizza was finished, he cut it and put it in a box for me. I thanked him and started the long, slow walk back to my bike. The timing was perfect; just as I was approaching my bike the tow truck was starting down the ramp towards it.
The operator needed my help loading the bike, but with only one good foot I was not the most able assistant. We finally did get it up there and got it snugly tied down with heavy cargo straps. As we drove back eastbound towards Salina, I shared my pizza with the tow truck driver. I wondered what Plan B was going to entail. It seemed highly unlikely that I could go on with my trip at this point. Getting my motorcycle repaired would surely be an expensive and time-consuming project. I had to be back at work on Monday. Maybe I would have to buy a bus ticket home. But what about the bike? Perhaps I could have it shipped home. Or I guess I could take some additional time off, fly back up to Salina later and then ride it home. Well, first things first. Let's find out how much it was going to cost and how long it would take.
We arrived at Salina Powersports. They were kind enough to wait for us, staying open about twenty minutes later than their usual closing time. I talked to the man in the service department while the tow truck operator and one of the mechanics unloaded the bike. I explained that I wanted the absolute minimum repairs necessary to get the bike back on the road. I also told him about the twist in the steering. He said that someone would call me in the morning as soon as they'd had a chance to check it out.
The tow truck driver generously gave me a ride back to the hotel, which was about a mile from the dealership. Seeing how badly I was limping, the guy at the front desk gave me the closest available room.
Once I knew I was in for the night, I removed my boots for the first time since the accident. I took my left one off very carefully, unlacing it all the way so that I could slip it off with the least possible resistance. Then I slowly rolled my sock off, afraid of what I might see under there. I studied my foot. It wasn't really that bad, I suppose. There were no bones sticking out or anything. My ankle was badly swollen, but it was nothing horrible. My big toe was black and purple. (I took a picture, but I won't post it here because it's gross.)
I medicated myself with a stiff dose of pain reliever and muscle relaxant (which was available at the truck stop next door in convenient 12-ounce aluminum cans) and then I went to bed with my foot elevated on a pillow. I considered wrapping some ice in a towel, but that would have involved getting up several times, so I rejected the idea.
Once again it occurred to me that if I had been riding with a passenger and that passenger had been thrown off along with me, right now he or she would probably be saying, "first thing in the morning I'm taking a cab to the nearest airport and buying a ticket to fly home."
Day Six
Tuesday, April 24th, 2007
The phone woke me up. It was Salina Powersports. The mechanic on the other end of the line sounded somewhat bemused. "What all do you want us to fix," he asked.
"Just do whatever it takes to make it safely and legally roadworthy again," I told him.
There was a pause. "So . . . just the turn signal, I guess?"
"Well, that plus the problem with the steering."
"What problem with the steering?"
"You know, the crooked handlebars."
"The handlebars don't look crooked to me."
Now it was my turn to be puzzled. "But . . . it was all bent up yesterday."
"Well, it looks fine, but I'll check it out for you."
He called back a little while later to tell me that one of his mechanics had ridden the bike more than four miles and didn't notice any problem with the steering. They said they would have the turn signal replaced within about an hour and the bike would be good to go.
I was delighted and mystified at the same time. I rechecked the digital photograph I had taken of the bike immediately after the crash. The handlebars were bent; the left handlebar was actually in contact with the fuel tank. How could they not see that?
I checked out of the motel and hired a taxi to take me over to Salina Powersports. When I saw Pancho sitting there, I was amazed. The handlebars were straight!
I took the bike on a test ride around the block and sure enough, it handled fine.
I remain perplexed as to what happened. My theory is that after I dropped the bike off the night before, some savvy mechanic who could see exactly what part was bent simply grabbed a mallet or a crowbar or something and muscled it back into the correctly aligned position. I was never charged for this.
I paid for the new turn signal and hit the road again.
The weather was getting worse and worse as I continued across Kansas. Murderously stong prairie winds buffeted me from the side. I was banking as much as ten or fifteen degrees to the right just to keep going in a straight line down the Interstate. It was fairly unnerving, especially when a sudden gust would hit like a club, threatening to knock me right over, which at 70 MPH might not be fun. I had already been down once on this trip, and had no desire to repeat the experience any time soon. At least the pavement was level, hard and dry, I told myself. If it started to rain, I wasn't sure I'd be able to keep going with these winds.
I rode across the surface boundary of a cold front, and it was the most dramatic weather transition I had ever experienced. In the space of about one second, the air temperature dropped ten to fifteen degrees. It was like sticking your head in the refrigerator. At the same instant, the wind completely reversed direction, switching from out of the north to out of the south. The sky was getting darker.
As I crossed into Colorado, rain began. I had originally hoped to make it most of the way to Montrose, but now I changed my mind and resolved to go only as far as Limon before stopping for the night. Things were starting to get ugly. Thunderstorms were popping up all around me, with frequent lightning. The wind was as fierce as ever, and it kept shearing to new and unexpected directions, leaving me fighting for control of the bike.
It wasn't long before I-70 became quite wet and I started to think that I might not even make it to Limon before I had to hang it up for the day.
A couple of police cars appeared ahead on the other side of the median, racing in the opposite direction with their lights flashing and their sirens blaring. Then, shortly after that, I spotted a snowplow. Then another snowplow. And then I started to see cars, trucks and SUVs parked way off to the side of the Interstate on both side. Some of them were parked at very odd angles. Then I saw a couple more in the median. Wait -- they weren't parked! They were wrecked! They had skidded off the road and come to rest askew. Yeah, maybe it was time to --
That's when I first noticed it: telltale grainy, crusty white edges to the puddles along the side of the highway. ICE!
I'll be perfectly honest with you . . . I was utterly terrified when I saw that. There are not that many things that scare the crap out of me, but ice is one of them, either on a motorcycle or in an airplane without ice protection. I slowed down and told myself, "just make it to the next exit. Just be very careful, go in a perfectly straight line, don't apply the brakes, don't make any sudden moves. Just take it easy and make it to the next exit. Just a few hundred yards. The next exit. That's all. You can do this. No problem. The next exit."
I did make it, and I pulled into the parking lot of the first motel I came to just as the rain began to come pounding down ferociously. As I was checking in, about a dozen other vehicles all pulled into the parking lot right behind me, all of them having the same idea. (No other motorcycles, though.)
I was in Stratton, Colorado. I parked my bike and unloaded a few essentials into my room. I was still limping, but I was getting around much better by now.
As proof that good things do occasionally happen to bad people, this motel had its own attached lounge! Filled with gleeful relief that I had stopped at exactly the right moment and at exactly the right place, I walked over to the lounge, plopped down and opened a tab.
A roar like thunder commenced outside, shaking the whole building. A hailstorm! Soon the parking lot was four inches deep in ice pellets; it looked like snow. Man oh man, had I stopped at the right time, or what?
The lounge was a cozy little place. The bartender was named Whitney. She was very young and very nice. The restaurant portion of the building was soon overwhelemed with stranded travelers and Whitney, who didn't have any help at first, found herself racing around trying to wait on everyone. I soon learned that I-70 had actually been closed, and that the state police were evacuating people to Red Cross shelters to spend the night!
I was soon joined in the bar area by a motley assortment of individuals:
A couple towing a boat behind a 4x4 pickup truck. They were married with three children and numerous grandchildren. They were on their way home to a small town in southwestern Colorado.

Another couple -- a white woman and a black man -- who had been married for 30 years and had 10(!) kids. They were on their way from their home in Missouri to Las Vegas.

A musician with hair like Albert Einstein who was traveling alone.

A salesman who looked like Wallace Shawn.
The seven of us were drinking and laughing half the night. Whitney was too busy with the many other restaurant patrons to spend much time checking on us, so after a while we started just going back behind the bar and getting our own beers.
The couple with the boat told me that I should visit Durango in September. I wrote that down.
The salesman told us that he had hit a patch of ice, skidded out of control and totaled his rental car -- just two miles west of here! I suddenly got a creepy feeling, like Fate had been shooting at me all day and missing.
We diligently reported to Whitney how many beers we had each had and then we all wandered off to bed.
Day Seven
Wednesday, April 25th, 2007
I woke up and turned on the Weather Channel. They were covering the devastation caused by the storms so far. Right now, the system was moving eastward. The very, very tail edge of it was still over eastern Colorado, where I was right now.
Now it was time to come up with a new plan. The mountains west of Stratton were under a couple of feet of snow. That was no longer an option. I could start heading directly back towards Missouri, where I wanted to wind up by Thursday night anyway, but then I'd be zooming straight back into the worst of that weather.
But what if I made an end run around the back side of it?
I studied my atlas. I could go due north, up through Nebraska and into western South Dakota. Then I could work my way back to the south and east, remaining in the fair weather associated with the high-pressure system on the back side of the line of storms. But in order for that to work, I'd have to leave right now and make very good time. And the cold, wet weather was still on top of us in this part of the country. Well, I reasoned this way: if I could endure some chilly, damp riding for a few hours then the payoff would be clearing skies as the bad weather moved east and I continued north. It was a risk I decided to take.
I ate a quick breakfast at the motel restaurant and then loaded up the bike. I put on every piece of clothing I owned, layering to the max and beyond. I knew that this would be a very, very cold ride for the first part of the day. One useful technique I have discovered is to travel with a pair of bluejeans that's about three sizes too big. That way, I can easily put on thermal underwear plus a pair of sweatpants under it. And then of course the riding suit goes over that for a total of four insulating layers to trap warm air.
As I was leaving the slushy, ice-strewn parking lot, both couples from the previous night were there. They waved. One woman yelled, "be safe!" while another just shook her head, amazed by my sheer lunacy.
As I proceded up US 385, my thoughts progressed like this:
"This isn't too bad."
(A few minutes later.) "OK, it's a little chilly, but I can handle it."
(A few minutes later.) "All right . . . yeah, it's pretty dang cold."
(A few minutes later.) "I'm freezing."
(A few minutes later.) "Holy crap, I'm really freakin' freezing."
It's a shame that the cold prevented me from enjoying this part of the ride, because the scenery was incredibly beautiful.
The wind was almost directly out of the north at this point, and it was very strong. I was going almost directly north, right into the teeth of the wind, so at 60 it felt more like 90. The misty drizzle was steady and continuous.
I stopped in the little town of Holyoke, a place dominated by grain elevators, silos and railroad tracks. I parked on the street and walked into KarDale's Restaurant and Lounge, a small brick building located next to the offices of The Holyoke Enterprise (the local paper) and Holyoke Federal Credit Union.
Once inside, it took me a couple of minutes to shed enough layers to sit down. I don't know if I was actually blue, but I sure felt blue, or perhaps bluish-white, like glacial ice. My extremities were numb, tingling, burning and throbbing and I was shivering all over.
The waitress brought me the first in what would become an extended succession of mugs of hot chocolate.
Three farmers sat nearby discussing the finer points of fertilizers and tractors. Aside from us, there was almost nobody else in there.
I ordered a cheeseburger with fries and sat there desperately trying to warm up as I looked over my maps. This was yet another one of those points at which if I had been traveling with a group or a companion somebody surely would have said, "let's just get a motel room right here in Holyoke, wait for it to get warmer and then go home."
I asked her if Chimney Rock, which was just a few more miles up the road, was worth seeing. With no expression on her face she answered, "no." She didn't seem like she thought much around there was worth seeing.
Eventually I reached a point where I knew I couldn't stall any more, so I reluctantly paid my check, put all my gear back on and slogged back out to the bike. I was on there for about 30 seconds and I was freezing again.
Time passed, and my strategic gamble paid off. The rain stopped, the clouds broke, the sun came out and the temperature began to rise rapidly. I was one happy dude. "Happy" isn't really the right word. I was elated. I was giddy! I was grinning like a maniacal idiot inside my helmet.
If you will indulge me for just a moment, I am going to digress into a very short expository piece about why I ride. Riding is not just an activity; it's a reflection of a philosophy of life. There is no illusion of safety or security on a motorcycle, no sense of isolation from the outside world, no feeling that you are protected or removed from the world around you. You are in it; you are a part of it. It surrounds you. You aren't really safe in a car, either, but you feel safe. With the heater or air conditioner to keep you comfortable and the radio to keep you distracted, you can almost ignore what's going on outside. If I had been making this trip in a car, there would have been none of this misery and suffering. But it is equally true that there would not have been the joy, the triumph, the accomplishment, the pride and satisfaction that comes with overcoming what may have seemed like insurmountable adversity. Driving a car is just going -- riding a motorcycle is an adventure. 95% of all people just do not get it. ("Why would you even want to do that?") But the 5% who do get it are passionate about it, obsessed with it. I suppose in that respect it's like flying or skydiving. OK, end of digression.
In South Dakota one of Wednesday's highlights was riding through Wind Cave National Park. I was astonished by the abundance of wildlife within the park's borders. I had to stop for a herd of bison crossing the road at one point! Deer were everywhere. I spotted two coyotes, as well. But the most numerous inhabitants by far were the prairie dogs. My world goodnight, I had no idea that they existed anywhere in such numbers! The ground was crawling with them -- tens of thousands, hundreds of thousands. As soon as I would pull over to try to take a picture, however, they would immediately cease their playful antics and sit up on their hind legs in that cute, distinctive manner they have. Alarmed by my proximity, the shy little buggers would start to dash for their burrows, their stubby tails flicking like warning flags. By the time I could extract my camera from my front pocket, they were all gone. I'm sure that if I'd had the time and the patience to sit quietly for a few minutes they would have re-emerged, but I had to reach Mount Rushmore before the sun went down, so I couldn't afford to linger. I was only able to get one picture of a prairie dog, and that was from a considerable distance at maximum optical zoom and maximum digital zoom, producing a low-quality, low-resolution image. Oh, well.
The buffalo were often very close to the road (and occasionally on it) but despite the temptation to score a juicy extreme close-up shot I restrained myself. I'm not sure how a buffalo would interpret a parked motorcycle -- maybe as a shiny silver rival. The thought of being trampled and gored by 1,000 pounds of angry pot roast* kept me from stopping to whip out the camera, although I did sneak one quick shot from what I judged was probably a safe range.
The colorful, rumpled landscapes of South Dakota are extraordinarily beautiful. I found myself humming the theme from Dances with Wolves, which was filmed there. There were times when I could almost forget that it was the 21st century, and pretend that instead of a Suzuki, I was astride a horse, exploring the frontier in the year 1867.
Riding through the Black Hills was nothing short of amazing.
I saw Crazy Horse, I saw Mount Rushmore, I saw The World's Smallest Biker Bar. It was a good day.
* That's a Tom Lehrer joke.
Day Eight
Thursday, April 26th, 2007
I got off to a slow start on Day Eight. My energy had been sapped by yesterday's ride, glorious as it was, and I didn't get on the road until late. Then I dawdled, making frequent side trips, including a former Minuteman II missle site that had been turned into a National Historic Landmark as well as the truly awe-inspiring Badlands National Park. I also stopped to get a picture of the Corn Palace in Mitchell. If you've never heard of the Corn Palace, Google it.
The park ranger at the Minuteman II facility was a retired military man and a fascinating fellow who showed me around and explained what was what. Unlike many members of my generation, I do have a basic knowledge of the events of that time period, and I think he was very pleased to be able to carry on an intelligent conversation with someone my age about everything from the Berlin Blockade to the Korean War to the NATO Alliance and the Warsaw Pact to the Cuban Missle Crisis. After visiting the site I composed (in my head) a lengthy historical and political essay comparing and contrasting the Cold War to the current War on Terror. I never got around to actually writing it down, however, and it's too much trouble to try to reconstruct it now. So just take my word for it -- it was really good stuff.
Crossing back into the Central Time Zone while eastbound on I-90, I stopped in Murdo for lunch at 1 P.M. I found practically the whole town closed for business. After a short search I was able to locate one place that was open, called simply, "The Diner." It was nearly empty. Apparently the whole state doesn't really crank up until May. Everywhere I went I saw museums, gift shops, amusement parks and various other attractions closed down, locked up and deserted.
This is definitely a part of the country where there is one and only one socially acceptable motorcycle brand, and it damn sure ain't Suzuki, buddy! There is also a very powerful cultural bias against wearing helmets or any other kind of personal protective gear (other than black studded leather with fringe and big silver buckles). There were a few times that I got the distinct sense that I was an intruder in enemy territory.
I took I-90 all the way into Minnesota and then took US 75 south into Iowa. US 75 quickly became very narrow, taking me past endless farms with hay bales and corn cribs and old red barns. I love riding on remote rural two-lane highways when the weather is nice and I'm in no particular hurry to be anywhere. In fact, there's really not much better in life.
I had sort of vaguely hoped to get all the way down to Kansas City, Missouri that night. (I had reservations there.) But as the hours rolled by it became increasingly obvious that I wasn't going to make it. I had started out too late and wasted too much time on side trips. Ah, what the hell! That's what vacations are for, right?
The sun went down and the temperature began to plunge after it.
Eventually I was getting so cold and so tired that I had to give up. It was a minor defeat, but even at maximum Interstate cruise speed I was still nearly three hours from KC and I just couldn't take it any more. I stopped for the night shortly after 10:15 P.M. and checked into the Bluff View Motel in Pacific Junction, Iowa. It was the first place I had stayed in years where they actually give you a key, not just a plastic card with a magnetic strip on it. It was a great big fat brass key attached to a big diamond-shaped plastic tab with the room number stamped on it. I thought that was really cool, but the lady at the front desk didn't see what the big deal was.
Exhausted and half frozen, I flopped down on a wonderful new pillow-top mattress and fell asleep almost instantly.
Day Nine
Friday, April 27th, 2007
On the road by 9 A.M. I stopped for breakfast at The Crossroads 24-Hour Cafe, a place frequented mainly by truckers, and then I got out there and put some highway behind the tires. This is where I made up for the previous day's shameless dilly-dallying. I covered a whopping total of 730 miles, going all the way to Nashville, Tennessee. It was a "road day." I paused only in Metropolis, Illinois, to have dinner.
Day Ten
Saturday, April 28th, 2007
This was another "road day," but with one notable side trip: to the George Dickel distillery.
To get to the distillery, you get off I-24 onto US 41, which is a rural two-lane highway. Then you get off US 41 onto an even smaller road called "Blanton Chapel." Then you get off onto an even smaller road called "Lydell Bell." Then you get off onto an even smaller road called "Frank Hines."
The final part of the ride takes you along a road that is barely wide enough to be called a single lane. It leads right to the distillery itself. I really wanted to stop and take a picture of this road, but there was no place to pull over. I passed a quarter horse drinking from a swift-flowing creek amidst a field of bright yellow wildflowers and I thought, "rats, that would have made a great photo . . ."
And no, I did not leave the distillery empty-handed.
I stopped for the night at a hotel in Perry, Georgia. Evidently a local prom was going on, because when I ventured out of my room to find a place to have a beer I saw boys in tuxedos and girls in brightly colored formal gowns wherever I went.
I found a bar called The Green Derby. The bartender's son was home on leave from the Navy. She was proudly showing him off to everybody in the bar. Meanwhile, up on the TV screen above her head, the movie Pearl Harbor was on, showing scenes of sailors being drowned, shot and blown up. She seemed oblivious to this.
Then the group of women sitting next to me got into an animated discussion about the pros and cons of shaving versus waxing. I left.
Day Eleven
Sunday, April 29th, 2007
The last day of the trip was pleasant and uneventful . . . I found myself looking around and thinking, "the weather's wonderful, the scenery's nice, the traffic's light, I'm making good time. Does it really get any better than this?" The answer to that question turned out to be "yes," as I stumbled upon a place that had some really good roadside barbecue.
You know what the best thing in the world is? The best thing in the world is suddenly realizing with a smile that there is absolutely nowhere you would rather be than right here, right now, doing what you're doing. That's happiness.
I took I-75 to the Florida Turnpike to the East-West Expressway, stopped at Flight Express to drop off all my flying gear (which I had only brought with me for the purpose of giving those three checkrides the previous weekend) and then I rode home. I pulled into my driveway shortly before midnight.
Despite the crash and the weather, this was a good trip. This will be the last of my "learning trips," trips taken primarily for the purpose of teaching myself how to be an effective long-distance rider. I have certainly mastered the art of packing light!
I did learn six valuable lessons on this outing:
(1) Get an electric vest.
(2) Get an electric vest.
(3) Get an electric vest.
(4) Allow more time.
(5) Allow more time.
(6) Allow more time.
I shall apply those lessons to my next trip, which will be up the Eastern Seaboard in late summer or early fall.
Although some long-distance, "Iron Butt" riders can knock out multiple consecutive 1,000-mile days, that's not my ultimate goal. For me, the point of long-distance riding is to make areas of the country available that would otherwise be out of reach due to time constraints. For example, let's say I'd like to explore Maine. Maine is 1,600 miles away. I could, in theory, take one week off and then hammer out two back-to-back 800-mile days (Saturday and Sunday), use the entire following five days (Monday through Friday) to tour the state in a leisurely manner and then do two more back-to-back 800-mile days (Saturday and Sunday) to get home. That's a nice balance between efficiently disposing of great spans of real estate on one hand and cruising around in no big hurry on the other hand -- taking my time to wander freely and make frequent side trips, letting serendipity take a hand, discovering hidden places, allowing myself the luxury of being distracted and surprised. (If I only had the capability of doing 300 mile days, then it would take me more than five days just to get from Florida to Maine, meaning I'd have to take two weeks off just to get up there and back, without leaving myself any time to explore while I was there.)
Stay tuned for more . . .
---
Click HERE to return to the Travel index page.